Gulliver to The U continues as Burns inks with Miami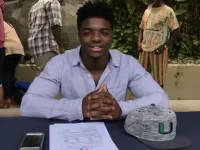 Gulliver Prep running back Robert Burns has been a nationally recognized name on the recruiting scene since his freshman year of high school when he was posting eye-opening SPARQ testing numbers.
It's been a long journey for Burns, but a generally quiet recruitment since he committed to Miami almost two years ago now. Today, Burns made it official and signed with the Hurricanes – he will enroll at Miami in January and begin classes on the 18th.
"It felt amazing – just everything that you dream of finally coming true. I held back some tears, but I'll probably cry about it later," Burns said.
"My family has always been my support system and they've always been there for me, so in a way this is me showing them that everything was worth it."
Burns is a rare commodity in today's era of south Florida recruits – not only did he commit to the hometown school early, but he stayed true to his pledge the entire process.
"Since February 22nd of 2015, which was the day before I committed, I just felt like that was where God wanted me to be. I felt that if I trusted in God, then things would work out," he said.
"It hit me when I actually saw the papers. I thought I was going to sign like fake papers, so that was funny. It was definitely surreal."
A major factor in his recruitment was Miami's on-campus recruiting coordinator Jorge Baez, who has delivered on 4-4 Gulliver targets over the last year. Burns joins Joseph Jackson, Dionte Mullins, and Cedrick Wright in Coral Gables – just a few minute down the street from the Gulliver campus.
"He's been huge (Baez). I can't even put into words the type of impact he's had on my life. I've got nothing but love for him – nothing but love," Burns said.
"It's a legacy being created. It started with Sean Taylor and even to the guys from last year's class so I wanted to follow in their footsteps and do even better than them."
Burns, who missed most of the season with an ankle injury, is healthy and will play in the Under Armour All-American game on January 1st. He will be on Miami campus shortly thereafter.
"No doubt, I'm ready to work. I'm already learning the playbook and I'm prepping for the Under Armour game. In the back of my mind, it's right there. I can't wait to step on campus."