FB Marquez Williams adjusting to Miami life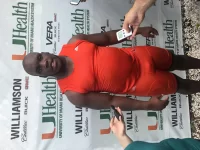 Miami's new fullback Marquez Williams has emerged early on in his Canes career as a player who could have a big role in the run game.
Mark Richt said yesterday that Williams is "how you draw 'em up" at fullback. Richt also noted that Williams has taken a majority of the first team reps. The coaches are also keeping things simple for Williams with his responsibilities within the offense.
His adjustment off the field though is an interesting one. Growing up just outside of Athens, Georgia and then attending Mars Hill college in North Carolina, the Miami lifestyle is a bit different than what the 6-foot, 280-pounder is used to.
"North Carolina was a lot of fun. Living in the mountains is different," Williams said. "I did some trout fishing – mostly rivers or little streams. Downtown Asheville was a very arts and touristy place. I loved to look at the mountains."
He added that he's love to do some "sea water fishing".
Along with football, Williams will be focused on getting his graduate degree. With whatever free time he does have, what are his plans in Miami?
"I'm just going to hang out with my teammates. Probably just the beach, but I'm not from Miami so I'll just do whatever they're doing," said Williams.
"Mars Hill is a great place – I love it. It's like a second home to me. We had some great players there. I have a former teammate who is with the Colts and one with the Steelers. I've played with and against some pretty good players," said Williams.
"To be besides Brad (Kaaya) and the rest of my teammates is great, but the speed of the game is definitely a step up here."