Elite 2018 QB Art Sitkowski raves about Miami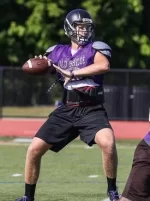 The Miami Hurricanes have had a nice run on recruiting top-tier quarterback prospects over the past few years and that looks to continue with Mark Richt at the helm.
The Canes nabbed Brad Kaaya in the 2014 class. Top-10 QB Jack Allison was in last year's class and enrolled in January. And dynamic in-state product N'Kosi Perry is in the 2017 class.
Richt seems to be honing in on a premier target for 2018 as well – Old Bridge, New Jersey prospect Artur Sitkowski, who is the number-4 ranked pro-style QB in his class according to 247sports.com. Michigan, Ohio State, Florida, North Carolina, and South Carolina have all offered the 6-4, 215-pound prospect along with the Hurricanes.
"Right now, I have 110% focus on my team, my school work, and my family. I have to focus on all of that right now, so recruiting is a side thing. When I'm done with my work, I open up letters and that's when coaches can call me," Sitkowski said.
Although it's still early in the recruiting process for most high school juniors, Sitkowski is a seasoned veteran at this point. With a summer full of college camps and unofficial visits under his belt, he knows the questions to ask himself about each situation.
"Can I really see myself going to this university? Can I see myself going to class everyday here and going to practice. Coaches switch a lot – you can't pick a program because of a coach. They can switch on you the next day," he said.
"You have to pick a program that you really care about. Coaches play a big role of course, but you have to pick a school because of the school."
Sitkowski visited Coral Gables with both of his parents in late July. He also took trips to Gainesville, Columbus, Ann Arbor, and Chapel Hill since June. It seems like he is starting to get a clearer picture of what he is looking for when he makes his decision.
Canes Head Coach Mark Richt seems to be a slam-dunk with any parent that he comes across during the recruiting process – and that is no different with the Sitkowskis. Art said that his father was blown away by Richt and his genuine personality.
"My parents play a huge role in this process with me. Of course, mom's always right so I listen to her a lot. She always says that number one is academics because you can't play football forever unfortunately," Sitkowski said.
"The number two thing I'll look at is the football side of things like the style of offense – are they a pro-style team, are they run-heavy, are they going to throw it around a little bit? What type of coaches do they have there? Have they produced any NFL guys?"
So which style does he want to play in at the next level?
"I prefer a pro-style offense, but I know I can run a spread offense in college. I think I'm athletic enough to run or throw. It will probably come down to a pro-style though, because that gives you an opportunity to prepare for the next level," he said.
The University of Miami brand speaks for itself nationally. Although the recent success has not been to the level that fans have come to expect, Sitkowski is drawn to the program by the aura of those who have paved the way in orange and green.
"Number one, Miami is a national program. They've won national championships – five of them. Coaches from the past set it up for kids like me from New Jersey to grow up watching them and loving them. The biggest thing to see is what they've done there in the past."
Sitkowski says that he has paid attention to Miami's early season schedule and watched last weekend's game against Appalachian State on ESPN. He came away impressed with the offensive scheme, as well as Richt's utilization of the run-pass option play.
"I really believe in what Coach Richt is doing down there. I love his history of working with the position," he said. "Seeing that he gives freedom to the quarterbacks if you earn his trust is music to my ears."
Sitkowski said that he was originally planning to wait out his commitment for his senior season, but now wants to have his decision by the spring evaluation period early in 2017.