Earl Little talks new job, Mark Richt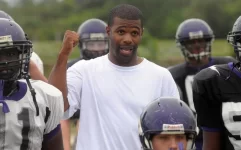 I had the chance to catch up with former Miami Hurricane and 8-year NFL vet Earl Little, who spoke about his new job as head coach at Westminster Christian and gave his thoughts on the new era at Miami.
Q: Talk about what was intriguing to you about this opportunity at Westminster Christian and walk me through the process of how it came about.
Little
: First and foremost, I was going to take the year off from coaching and concentrate more on my son. I also stated to the Herald and on the Joe Rose show that if the right opportunity presented itself that I would take it. I got a call over spring break from Westminster Christian and I wasn't sure if it was the one up here in Broward county or the one way down south in Miami. So long story short, I went to the Pacquiao-Bradley fight and I told the school I would do the interview when I came back from Vegas. I did it and they told me they would call me back – so the next Sunday, they called me back but I was asleep so I told them I would give them a call the next morning. They told me I had the job, but I still wasn't sure.
The intriguing part was that when I went in there to interview, there were eight people in the room and it felt like home because it didn't feel like an interview. I met with all the top guys from the school again and they asked me what they needed to do to get me as their next head coach. We went over everything and it happened. That feel of the Christian family, that private school atmosphere was something that I couldn't turn down. I really love coaching, I don't just like it. I love this game, honestly. When they showed me around the school and I saw the campus and everything, I almost had to pinch myself and ask if it was real.
Q: You touched on it a bit there, but how different has it been for you now working in a private school compared to public school?
Little
: I've coached at a few public schools and it's just totally different. You don't hear the profanities I've heard in hallways or some of the disrespect. Not every school is perfect, but it's just little things like that. The atmosphere from the entire administration, teachers, the lawnscapers, the janitors, from top to bottom is just a family. When I go there every morning, it doesn't feel like work.
Q: How much of your job at Westminster now is going to be mixing in what you want to do, while trying to continue what Sedrick Irvin built there? How different do you think your coaching styles are?
Little
: Sed did a great job building the program up to what it is today. We want to continue that success, but we want to take it a step further. People are saying it's a rebuilding year because we are young in certain areas, but you have to be in it to win it. We are not concerned with what has happened in the past because this is a new era. My concern is winning those district games. All those other games don't matter when it's time to punch that ticket for the big dance. I'm not saying we will lay down for non-district game, because we are trying to win every game, but those district games are playoff games before the actual playoffs start. I'm not going out there trying to compete against Sedrick because that's in the past. He's up there doing good things at East Carolina, but that's water under the bridge. This staff stayed together for the most part and we only brought in three new guys.
Q: How do you think kids have responded to your coaching this spring considering they were used to a different style?
Little
: From what I've been told by the kids, parents, coaches, and administration was that his style was intense. Parents have come to me and told me the kids really like my style. Of course I have a fiery attitude, but I'm not in your face. I'm not saying that about Sed necessarily, but coaching is not about just yelling, it's about teaching and correcting. I'm what you call a player's coach. A kid can come to me to talk about anything but not be afraid. We will be serious about what we're doing, but we are going to have fun with it. I played this game at the highest level and even I made a mistake. So for me to snap on a kid for making a mistake, I'm not in the business of belittling a kid and calling him soft or anything like that. That's not going on at Westminster Christian. That did not go on at any other school I've been at. We are about making the kids better on and off the field.
Q: As you've mentioned, a lot of people are considering this a "rebuilding" year because of the youth, but how exciting is it for you to have the chance to build this thing from the ground up?
Little
: We are young, especially with guys up front. We had some proven guys graduate at the skill positions, but I am very very excited about coaching the guys we have. The future is bright here. I've heard it from the top that it's a rebuilding year, and when I look at it I'm not mad, it's the truth. For me, that's a challenge and I love to accept that. We are going to teach these boys how to play the right way. We will be watching a lot of film. We need to know our opponents as well as they know themselves. We are going to surprise some people outside of here, but it won't be a surprise to this staff or team.
Q: Turning our attention to UM, have you had the chance to meet with Coach Richt at all? If you have, just talk about that for a moment and what has your impression been?
Little
: I met with Coach Richt in January and we had a conversation for about 30 minutes. We had a great talk and I'm extremely happy that he's back home. He's a true professional. I wasn't able to be around the program much during the spring, but I was at the spring game with a bunch of former NFL friends of mine with our sons and we watched it from a fan's point of view. I didn't expect to see anything crazy out there, but I like what I saw. The quarterback will be a first-round draft pick, if not the first overall pick whenever he decides to come out. At running back, we got Walton and Yearby. There's not much depth at the wide receiver position, but I think we will be able to get it done. Stacy Coley should have a big year. Those younger guys have to go out there and make plays. We need to just get it back to the point at UM where we aren't rebuilding, but reloading. Defensively, I think that secondary is going to be better. We have Rumph and Banda coaching them. That linebacker group will be good, but that defensive line is what I'm really excited about. I'm glad that Chad dropped some weight so he can be a true 4-3 end. We are not raised to be 3-4 guys down here, we like to get after it with speed and aggressiveness. He can be a first-round pick in my eyes, but he needs to continue to work and improve. I'm happy overall with the team.
I'm not looking for them to win a national championship this year because I'm a realist, but I think 10 victories should be a goal and we should definitely beat Florida State. That should always be a must in this program. When I spoke to Coach Richt, the music to my ears was that he wanted our kids to be Miami kids. Before I walked out of his office, he shook my hand and looked me straight in the eyes and said 'you know what Earl, I just want them to be Miami kids'. The key to it, like he said, is structure. He doesn't want it like the 80s when rules were a little different. He wants them to be football players who show emotion, talk a little trash, but keep it classy at the same time. You don't need to get in people's face, but go play fast.
Little had an anecdote to share about the Al Golden era via Duke Johnson.
I know Duke Johnson very well since when he was little. He said the coaches were complaining about how many wristbands they were wearing and things like that. Duke wanted to go to Miami his whole life, but he was not happy during his time there because of the other staff. I'm not throwing anybody under the bus, but that's just what it was. His mom had asked me to talk to him and she thanked me for the advice. I'm not saying that what I told him had completely played a role in his decision, but I told him if you have a good year, leave school, get paid, and take care of your mother. I told him he could always go back to school to get his degree, which is what he's doing right now.
Westminster Christian prospect watch list
RB Mike Whyte (2017)
LB Daniel Duasso (2017)
LB Darian Stephenson (2017)
SS Jaylan Cox (2017)
SS Anthony Machado (2017)
WR Lorenzo Grigio (2018)
OL Daniel Penton (2019)
WR Kalani Norris (2019) - Temple offer
DE/OLB Jeramy Passmore (2019)
ATH Demetries Ford (2019)