Defensive target Sherwood with a huge spring game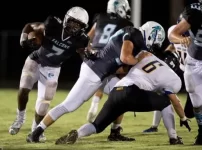 Jensen Beach athlete Jamien Sherwood is one of the top remaining defensive targets for Miami in the 2018 class. On Friday night in his team's spring game against Treasure Coast, Sherwood did major damage on the offensive side of the ball, with 5 receptions for 219 yards and 3 touchdowns.
Miami's defensive staff views Sherwood as one of the most versatile prospects in the country, and he is likely to play a hybrid linebacker role if he chooses UM.
[HUDL]video/3/4285868/59205bf33863e708c86bd817[/HUDL]