Defensive notes from Manny Diaz (FAU week)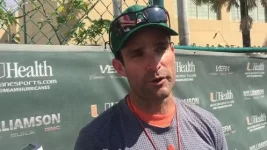 **On the surface, Miami's defense had a successful performance last weekend against FAMU, holding the Rattlers to 197 total yards and only 22 rushing yards, but defensive coordinator Manny Diaz had a gripe with his group's pre-snap alignment. Diaz added that the team watched film and "it might have been 23 plays ito the game where we cleaned up getting aligned."
"How the game is played after the snap is much more difficult if you're not in a winning position prior to the ball being snapped," Diaz said.
**Trent Harris was once again practicing with a giant wrap on his hand that his fractured, but is expected to see the field for at least a few series on Saturday against FAU. Manny Diaz expects to see Harris give it his best effort.
"I don't know what he'll have on there Saturday – it might be something a little bit less. It still comes down to Trent being a tough guy and having a lot of heart and determination. You have to rely on those types of things when you aren't 100%," Diaz said.
**As mentioned yesterday, JaQuan Johnson was working a bit with the linebackers during practice and that continued today. Diaz said that Johnson playing that spot could end up being a bonus in terms of versatility for the defense.
"We worked him in that position a week ago and didn't end up using him. It gives us a flexibility to be able to adapt to what teams are doing," he explained.
**FAU runs an up-tempo style offense that the Canes are working on defending this week in practice. Diaz said he believes the Owls, "will probably be one of the fastest teams we play all season."
"They present a challenge because of their fast tempo," Diaz said. "Fast tempo offenses try to zap your effort, zap your energy, and zap your toughness with their tempo and they try to get you tired out."
"We've seen some tempo from our offense, which is good to help us. But it's still hard to recreate until you get in a game and see it."
**Defensive ends Chad Thomas and Demetrius Jackson had stellar performances opposite each other against FAMU, constantly pressuring the quarterback. Having played together as high school teammates, Jackson was so excited to be able to share the field with Thomas once again.
"It felt like high school all over again. We talked about that before the game and throughout the week that we had to do what we had to do to make it feel like high school again," he said.
It was a big game for Jackson in particular, who recorded two sacks.
"It felt like a long time coming because I didn't play my freshman and sophomore year, really. It felt real good to be out there helping my teammates," said Jackson.