DeAndre Wilder breakdown from his coach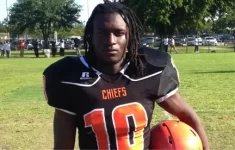 The Miami Hurricanes received a commitment last night from Carol City Chiefs linebacker DeAndre Wilder, who announced the commitment following his game.
Wilder is Miami's third linebacker commit of the 2017 class, joining Waynmon Steed of Miami Central and Bradley Jennings, Jr. from Jacksonville. The 6-2, 200-pound Wilder has taken strides this year under his new defensive coordinator Damon Cogdell, who was the architect of the great Miramar Patriots teams of the 2010s with Ryan Williams, Geno Smith, Ivan McCartney, Stedman Bailey, Tracy Howard, Malcolm Lewis, Jermaine Grace and more.
Cogdell was working at West Virginia until this spring when he returned to south Florida to become Carol City's DC. Cogdell shared his thoughts on the new Canes commit.
"I was hearing so much about the kid before I came, but he was so raw. He was a track kid and I didn't have him in the spring. He probably only practiced five days with me in the spring, but I saw so much potential and upside," Cogdell said.
"I had him practicing with the linebackers, but I put him at defensive end as more of a rover type backer in the games, so we could utilize his speed and his strength."
That switch to defensive end has benefitted Wilder tremendously this season, as he has been a force to be reckoned with in the backfield. Although he has exceled at this spot, Cogdell says that his future is in more of a traditional linebacker position.
"He's starting to learn the game and he's working on his football intelligence. He is a sharp kid and when you get to know him, he has a 'wow' factor. He's relentless, and you can't coach speed. I think he has a frame be a big guy and play all three linebacker spots. He can play the weak side rush linebacker spot right now too," Cogdell said.
"If they can put some weight on him, I think he's a solid Mike backer."
Cogdell thinks that Wilder's decision to stay home was a smart one, and he sees some similarities between his former player Jermaine Grace and Wilder.
"I think that was a great choice for him. I coached Jermaine Grace at Miramar and Wilder is a little taller, but their body structure is the same and they're both fast kids," he said.
"It was important for him to have that supporting cast here at home," Cogdell said. "It's closer for him to be in Coral Gables – it's a home away from home. If mom or anybody else wants to go see him, it's a 20-minute trip, not a 20-hour one."
Miami coaches are getting a high character prospect as well, according to Cogdell.
"He's a 'yes sir, no sir' kid – he's very coachable. I think Manny (Diaz) will do a great job with him and as his position coach. That's a plus for him because as a defensive coordinator, he will be around him the most and know what to expect week in and week out."