DE Jackson has high praise for freshman Garvin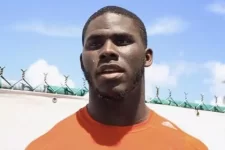 Pass rusher Joseph Jackson was a star for Miami's defense during his first year, especially as the season progressed. With two special talents added to the defensive end rotation in Jonathan Garvin and D.J. Johnson, Coach Kuligowski is trying to develop two more nightmares.
A scary thought for opposing defenses? Jackson, who led the team with 8.5 sacks as a freshman last season, said today that Jonathan Garvin might be a step ahead of where Jackson was last year. Garvin had the luxury of enrolling at Miami in January and has been impressing people within the program since he arrived.
"I think he can be better than me at this time because he came in earlier. I think he has better raw talent than me, to be honest. He's doing real well -- when he learns the play he'll be OK," Jackson said of the freshman pass rusher.
"One thing he does do well is his speed. He comes off the ball and he's fast. It's very hard to stop him when he just uses his speed rush," he added.
From most accounts, D.J. Johnson's rare combination of size, speed, and motor could get him on the field this season. Although he's still developing his pass rush moves, it's going to be tough to keep a 270-pound edge rusher with his skill set off the field. Joseph Jackson did mention that Johnson arriving later than Garvin could mean there will be more of an adjustment period.
"He just got here right before camp started so it might take him a little bit of time to see how he will do," Jackson said on Johnson.
For Jackson himself, who is looking to build on is strong freshman season, he feels like the biggest difference for him is the understanding of the concepts, which is allowing him to play at a higher speed.
"Since I know the plays, I feel like I'll be able to play faster and better. I feel like I've been having a decent camp because I know my plays and I know my assignments," he said.