DE commit Garvin excited about 2017 class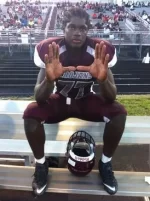 (photo courtesy of PrepBuilders)
Lake Worth defensive end Jonathan Garvin committed to Miami a little over a month ago. Garvin's high school season got off to a blazing start as he recorded seven sacks and an interception against Glades Central (whose QB James Blackman is an FSU commit) in the preseason classic.
The 6-4, 225-pound rush end seems to have taken the next step on the field this season.
"I feel like I've improved in every aspect that I needed to," Garvin said. "I'm trying to be virtually perfect. That's what my goal is and that's what my goal has been."
Despite now garnering some extra attention from opposing offenses, Garvin is prepared to see different looks.
"I practice being double-teamed and getting blocked by the running back. They kept throwing the ball because they wanted to have a passing attack and it made it so easy for me. There still hasn't really been a team we've played that can stop me from getting back there, especially not consistently," Garvin said.
"They're running the ball away from me and I still have good stats. I'm doing what I want and what I want is to have a great year," he added.
Garvin just turned 17 two months ago and believes that he is still growing. He currently stands at 6'4" and weighs around 225 pounds, but he said that he is projected to be as tall as 6-foot-7.
Miami's early success on the field has caught Garvin's attention, especially at his future position group at defensive line.
"I'm very excited about them and being able to see the results of their training and field work with Coach Kool. It's great to see that they're hungry and determined," he said.
"When I join them next year and get there with D.J. (Johnson), it's going to be even more tackles for loss," Garvin added.
The Lake Worth High School prospect thinks that his future position coach Craig Kuligowksi will have a major impact on him.
"I think he will influence my whole game. He's going to kick up the instincts when I'm in practice. He's going to help me with that a lot and he's going to teach me to distinguish a trick play from a run play or a pass play and be able to react on it a lot faster. Probably more than anything, he will probably help my run-stopping skills," Garvin explained.
One of Miami's most recent commitments, Garvin gave his thoughts on the Canes' 2017 recruiting class.
"It's just a dominant class. It's dominant all over. Each player that's committed is that one person each team is watching on film and saying 'ok we have to find a way to get away from him."
When asked if there was any prospect that he wanted to join the class, Garvin answered Booker T. Washington offensive lineman Kadeem Telfort, who is currently committed to the Gators.
SEASON STATS: 39 tackles, 24 TFLs, 5 sacks, 1 blocked field goal, 2 PBU

Note: The 7-sack game was in a preseason exhibition, so it is not on the official record for his statistics.