Coach analysis: 2018 OL D.J. Scaife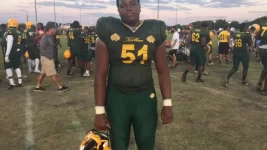 The Hurricanes got a 2018 commitment yesterday when Killian Cougars offensive lineman Delone "D.J." Scaife gave his pledge to the Miami staff. I will have more from D.J. later today, but I had the chance to chat with Killian head coach Javi Valdes on his player's commitment to Miami.
Miami is getting a high character student-athlete, according to Valdes.
"The kid works out probably twice a day at the very least. He's a leader. He's a no nonsense kid who you don't have to worry about his grades. You close your eyes at night knowing that he's doing the right thing and he's a family kid, which is always important," Valdes said.
One factor in his commitment to the Hurricanes was the ability for him to stay near his loved ones.
"He comes from a tight-knit family so I think that went into the decision of him wanting to be close to home. This kid is mature so he knows what he's getting in to. When you have a kid with a head on his shoulders like DJ, these commitments go a lot further down the way than with other kids," Coach Valdes explained.
So what makes Scaife a big-time prospect at this point? His coach broke it down.
"I think it's his mean streak. He's a great run blocker and the way he comes off the ball—he's very athletic. He probably runs close to under 5 in the 40 and he has a good shuttle time for a big kid. His speed and quickness with his aggression…you're not supposed to be that big and fast. He just bullies guys off the line."
Valdes once again praised Scaife's willingness to work.
"In just six or seven months that I've been around him, I've seen the improvement already. The offensive line coach that I have with me, Jon Gimenez, pushes him everyday. DJ stands up to the challenge and he takes things almost personally. When you let him know he's not the best, he's not going to come in with a sense of entitlement – he's coming in to work," said Valdes.
At 6-4, 270-pounds and room to grow, it remains to be seen where exactly Scaife will play on the line at the next level, but his coach says that versatility is a major aspect of what makes him great.
"As he grows, it depends if he gets a little bit taller. I think right now, he's a guard. Throughout the spring, we had some injuries up front so he played every single spot at some point. To be honest with you, he has the potential to be an All-American type guard or center and I think he can be an NFL guy there too. He has the right mindset. He can play anything."
The Miami staff put in time and effort early with Scaife, which helped secure his commitment. That's something that Valdes says made an impact on his star lineman.
"I think DJ is a 30-offer kid when it's done. He's at 8 or 9 right now, but they've made him a priority. They saw him, they loved him, they saw his work ethic, they made an offer, and they've been on him. They call and ask how he's doing and they are very active with the south Florida kids. For them to be active with the south Florida kids down here is really what the U is all about," Valdes said.
Highlights -
season highlights - Delone Scaife Jr. highlights - Hudl