Checking in with Stacy Coley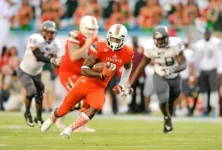 Miami's passing attack received received praise after their performance against Appalachian State. Canes QB Brad Kaaya seem more comfortable, which allowed for the Canes receivers to make more plays downfield.
It was an important showing on the road after struggling in the air against FAU. Stacy Coley scored twice against the Mountaineers.
"We just focused on rallying around Brad. We got work in after practice with him, getting on the same page. Our offensive line stepped up and protected Brad to let him do what we do," Coley said.
The Canes have converted on over 50% of their third downs this season, a hefty jump from last year when Miami finished 95th in the country on third down conversions.
The offense seems to be getting themselves into more manageable situations through the use of the run game, but also by getting back to the basics in the passing game.
"Coach Dugans has been emphasizing us catching the ball and making plays on third down. Brad is delivering the ball and we are jut making plays on third down," the senior receiver Coley said.
Paul Johnson's teams generally control the clock and time of possession, which means the offense probably won't get as many opportunities as usual. Stacy Coley says there is not room for mistakes because of that.
"We have to be excellent as an offensive group. As receivers, every play that comes our way…we need to make. It's all about executing."
Coley, who has dealt with nagging injuries throughout his Canes career, said of his health, "I feel great. I'm 100% and ready to go."