CB Delaney discusses transfer to Miami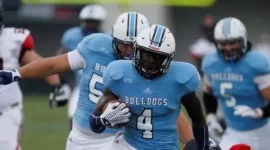 As Miami wraps up spring football practice this week, the roster is set to have some new names on it in the coming months. Canes fans are eagerly awaiting some of the top names from the 2017 class to arrive on campus such as N'Kosi Perry, Trajan Bandy, and Mike Harley.
The newcomer that could end up having one of the biggest impacts in 2017 though, is grad transfer cornerback Dee Delaney from the Citadel. Delaney announced on February 28th that he would be using his final season of eligibility at the University of Miami.
Delaney tallied 11 interceptions over the past two seasons as an FCS All-American. The move to Miami could help catapult his draft stock – sources told CanesInSight that he received a mid-round grade from the NFL advisory board this, but he has his sights set higher.
"I just kinda wanted to challenge myself. Being at that next level, I'll be able to go against top recruits and top recruits on a daily basis, and test myself overall," Delaney said.
The move however, does come with some risk. Delaney's decision shows self-confidence.
"I was hearing it from both sides. Some of them we're saying 'if you go there and ball, it could really help your draft stock – but if you go there and don't do too good, then you could hurt it," he said.
Delaney was far from a heralded recruit coming out of Whale Branch High School in South Carolina. He played wide receiver in HS and said he did not receive much recruiting interest at all. Once he got to The Citadel, he switched over to the defensive side of the ball where he has flourished.
"I feel like at cornerback, I noted that a lot of corners weren't good with their hands – they couldn't catch. I saw the game was changing with tall cornerbacks, so I gave it a try."
Delaney's visit to Miami was the first time he had made his way to south Florida, even though he said that he has family in Fort Lauderdale.
"It was great," he said. "I went in there with a business mindset. Most people go to Miami think it's a party city, but I didn't go in there with that mindset."
Delaney has formed a quick relationship with his future secondary coaches. As he explained, it was not so much about a certain recruiting pitch they used, but more about the trust he already seems to have in them.
"Coach Rumph, I feel like, was real honest to me. He didn't lie or or tell any false information or anything like that," Delaney said. "As far as Coach Banda, he's just that guy."
"I watched a little bit of film and got a chance to see where I'll be used at," he said. "As far as I see, I'll be a great corner – just to shut one side down or at least try to shut one side down. They can worry about things other than that side of the field.
The Canes are bringing in a grad transfer defensive back for the second straight season after having success with Adrian Colbert last year. Colbert's presence was also a key in the recruitment of Delaney to UM.
"It felt real good. He didn't lie to me about anything. I told him to be honest with me all the way through, and that's what he was – the family at Miami, the coaches and just how they act around you throughout the whole process. I feel like he was a big part of my decision as far as going to Miami," he said.
The Citadel played Florida State during Delaney's freshman year and he feels ready for the challenge once again as a Hurricane.
"As a freshman, it felt normal to me. I didn't buy in to the hype. Most people say they go in there and hear the crowd, but I didn't hear the crowd so I didn't bother me at all. I just felt like I fit right in – as a freshman."
Delaney said that the plan right now is to arrive at Miami on May 18th, shortly after his graduation at The Citadel.
This interview was originally conducted on the CanesInSight podcast presented by CanesWear. You can listen to it below.
[SOUNDCLOUD]318181223[/SOUNDCLOUD]