CanesInSight Barbershop Talk 7-16
I would like to introduce a new series that will be featured on CanesInSight every couple of weeks. This will include football and basketball team buzz as well as recruiting information.
Football Team
**CanesInSight has reached out to signee Devante Bond multiple times over the past month to try to get an update on the qualifying status, but he has not responded to any messages or interview requests. He was one of the most respondent recruits from last year's class, so take that as you will. It seems unlikely that he will qualify, which would be a big blow as he would contribute heavily as a pass-rusher right off the bat.
**Freshman Corn Elder will start out his career at Miami as a corner, as opposed to running back where he was known to be one of the most explosive players in the nation. At first, I was unsure of the decision to use him on defense especially with the thin depth chart at running back, but after taking a second look at it, I like it. Elder has a slight build and doesn't look like he can add much more weight, so taking hits each week at the college level might not have been the best thing for his career. Elder will play basketball at Miami as well and is already practicing with the team. On the court, he is considered a defensive-minded point guard. He could be very valuable down the line as a playmaking slot corner, maybe in a similar role to how LSU used Tyrann Mathieu.
**Freshman Walter Tucker came to Miami as a late signee and not many knew about him. He had committed to Clemson as a track guy, but wanted the opportunity to play football, which they weren't giving him. Through Head Coach Mike Rumph, he was able to reach out to the Miami staff and he will play at Miami on a football scholarship. Tucker will play linebacker at Miami and is currently weighing about 210 pounds. He has recorded a personal-best of 10.4 in the 100-meter dash and should be great on special teams from the start. When I first saw his highlights, he looked a lot like Eddie Johnson from a physical standpoint (size, speed). Tucker will wear #44 at Miami.
**Stacy Coley has already enrolled at Miami, which is a relief for fans considering he was one of those guys who had qualification questions. He probably has the most pure talent on the roster at the receiver position, but with a group of veteran receivers in place he won't be on the field every single play. Brennan Carroll knows what he has in Coley though, so look for him to get touches situationally. You can't keep players as talented as him off the field.
Football Recruiting
**ESPN released their junior 300 list today and there were a large amount of South Florida prospects and Miami targets on the list.
#10 DT Daylon Mack (TX) – recently offered
#11 WR Da'Vante Phillips (Miami Central)
#25 ATH Torrance Gibson (American Heritage)
#26 RB Jordan Scarlett (University School)
#40 TE Devonaire Clarington (Westminster Christian)
#50 WR Devante Peete (St. Thomas Aquinas)
#53 CB Tyrek Cole (Miramar)
#57 S Kendrell McFadden (McArthur)
#65 CB Tarvarus McFadden (American Heritage)
#74 QB Brandon Wimbush (NJ) – recently camped
#117 ATH JaQuan Johnson (Killian)
#123 WR Shawn Burgess-Becker (Monarch)
#160 ATH Tim Irvin (Westminster Christian)
#167 WR Shaquery Wilson (Coral Gables)
#231 RB Jacques Patrick (Timber Creek)
#253 WR Jovon Durante (Jackson)
#264 WR Kahlil Lewis (Miramar)
#290 ATH Jordan Cronkrite (Westminster Christian)
**Some quick thoughts on that list:
-DaVante Phillips is too high on this list. He is no doubt an exceptional prospect, but when I think of a top 15 player in the country, Phillips does not fit the mold. He is not a physical freak and has not had to deal with defenses keying in on him due to the fact that he plays with two of the top players in the country in Dalvin Cook and Joseph Yearby. He is a top 50 player in the country and probably the best receiver in Dade, but he is not #11.
-There are a few guys who I think are too low: Tyrek Cole, JaQuan Johnson, and Shawn Burgess-Becker. Burgess-Becker is a 5-star talent and is in the discussion for top player in South Florida with Dalvin Cook. That ranking will skyrocket as the season progresses. Cole and Johnson are two guys who have produced at an extremely high level over their first two high school seasons and will both be top guys on Miami's board.
-Westminster Christian is making waves with three names on the list. In my opinion though, Jordan Cronkrite is a better prospect than Devonaire Clarington (who I am surprised is so high at #40) and maybe even Tim Irvin. Clarington is very stiff and is not a natural pass-catcher. I would not be surprised if Miami does not go after him hard. Cronkrite has the size and versatility to make plays on both sides of the ball.
**I expect the staff to take at least one more Junior College defensive tackle to go along with Dalvon Stuckey. The staff's failures to sign impact defensive tackles over the past couple classes will force them to get multiple JUCO guys in order to space the classes out. There is going to be a gap between Jalen Grimble, Earl Moore, Corey King and the 2014 class of freshmen that needs to be filled with these JUCO prospects who can contribute right away.
**Miami is still recruiting Brandon Powell despite his public statements and tweets that he is solidly committed to Tennessee.
**Brad Kaaya and Braxton Berrios have continued to build a strong relationship. Kaaya wants him in the class extremely badly and has told me that he has "dreamed of throwing to a guy like that." Kaaya loves his ability to get open.
**As I've mentioned before, Kaaya's family has also gotten very involved in Miami's recruiting class. His parents watch highlights on Miami commits and targets and stay on top of any updates about them as well. An interesting example of this came last week when Kaaya's mother tweeted this along with a photo: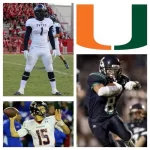 Basketball
**I spoke to Freshman Guard DeAndre Burnett back on June 29th at the Nike 7-on-7 football event, where he was supporting his brother Dalvin Cook from Miami Central. He told me that he was expecting to miss about two months with his broken collarbone, but would be ready for the season. With the new NCAA rules in place, the team is allowed to practice with coaches on a limited basis during the summer, so it is unfortunate that Burnett hasn't been able to participate.
**Belgian point guard signee Emmanuel "Manu" Lecomte is currently participating in the FIBA Under-20 European Division B Championship, where he is tearing it up. Through four games, the 5'10" PG is averaging 22.3 PPG, 6.8 RPG, and 6.3APG. Lecomte is expected on campus in August.
**Joining Senior Justin Heller and Sophomore Steve Sorenson as walk-ons for next season's team will be freshman guard Michael Fernandez. Fernandez is a local product from Belen Jesuit Prep School.
**A few players from last season's team have begun their professional careers. Kenny Kadji is playing with the Cleveland summer league team in Las Vegas and has started all three games. He is averaging 3.7PPG and 5RPG, while adding 5 blocks in his last 2 games combined, but has yet to hit a three point shot. It will be tough for Kadji to make the Cavs roster considering their crowded frontline of Andrew Bynum, Anderson Varejao, Anthony Bennett, Tyler Zeller, and Tristan Thompson. Durand Scott is struggling to get minutes with the Spurs summer league team (13 minutes through 3 games). Shane Larkin's broken right ankle will cause him to miss 2-3 months, but there will be an opportunity for him to learn behind one of the league's most efficient point guards in Jose Calderon.
**Julian Gamble announced on his Instagram account yesterday that he will begin his pro career with Saint Vallier of the French ProB league. Gamble is already listed as a starter on the team's website:
http://basketball.eurobasket.com/team/Saint_Vallier_Basket_Drome/1588
.