Canes make move with 2018 WR Hightower after visit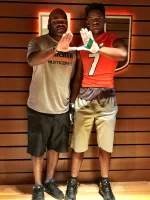 Miami hosted one of the top wide receivers in the 2018 class on campus yesterday. Four-star prospect Brian Hightower transferred to IMG Academy in Bradenton back in January and is a big priority for the Canes in next year's recruiting cycle. Originally from Calabasas, Ca., Hightower got in town yesterday and will be in Miami through Monday.
"I wasn't expecting what I saw, but I actually really liked it a lot. We went around the campus and saw everything. We actually stopped by the baseball field and I got to
talk to the coach," said Hightower. "Coach Baez was showing me around. I was hanging out with him and Coach Dugans."
Hightower is looking to play baseball along with football in college. Miami baseball coach Jim Morris made it clear to him that he would have an opportunity to play in Coral Gables. The 6-3, 195-pound prospect plays centerfield.
"I'm very interested in playing both. Coach Morris told me that I have a chance to come in and play baseball too," he said.
As far as his adjustment from California to IMG, Hightower knows that he his preparing himself well for the next level.
"I've adapted to it. It's new and I'm not completely used to it yet, but I like it a lot. It's a blessing just to be able to have these resources at such a young age so that once you get to college, you're just prepared for it," Hightower said.
When it comes to his recruitment, Hightower says that yesterday's visit really helped Miami's chances.
"Miami is definitely up there after the visit that I had," he said. "I have a great relationship with Coach Dugans, and you can really tell that he cares about his players. He doesn't feed you any fake stuff, but he's being totally honest with you. He also played in the NFL and I see him as a great receivers coach."
Miami offensive coordinator Thomas Brown also had a good chat with Hightower.
"Coach Brown was saying that I fit in his offense well as an x-receiver. There's not that many scholarship receivers there, so I would have a chance at coming in and playing early," he said.
So is Hightower's family willing to have him play college ball across the country?
"Yes, they are. It's really only my mom and grandma and they definitely support whatever decision I make, no matter how far or close it is. It's all about what makes me happy," said Hightower.
Mark Richt is a coach who Hightower holds in very high regard.
"There is no comparing Coach Richt to any other head coach in college football. He's one of the greatest," Hightower said. "I saw a survey on ESPN where parents trust their kid with Coach Richt more than anyone and that really proves he's one of the best coaches in the United States. I'm looking to build a bigger relationship with him."
On the field, Hightower is a dynamic threat.
"A lot of people compare me to a DeAndre Hopkins. I'm a deep threat, but I can score off of something like a screen if I need to."
Other than Miami, Hightower mentioned Clemson, Auburn, and Florida as schools that are sticking out to him. He plans on visiting Clemson next week and possibly UNC.
Hightower also said that TCU is an offer he is looking for and he will visit USC and UCLA when he heads back home for the summer.