Canes lead for blue-chip Cali DE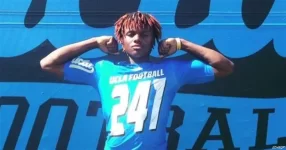 One of Miami's biggest issues over the past ten years has been finding and developing dominant defensive linemen. That downward trend appears to be over under the direction of Mark Richt and more importantly, defensive line coach Craig Kuligowski who is one of the most respected in the business.
Meet Deonte "D.J." Johnson, a 6-5, 240-pound defensive end out of Sacramento, California. Johnson is a 4-star recruit with offers from Alabama, Michigan, Notre Dame, Georgia, Florida, and South Carolina amongst others.
"I definitely have Miami at the top," said Johnson. "To be honest with you, I would have already committed to Miami, but my dad has never experienced the recruiting
process so I want to make sure I take advantage of it and get that bonding experience with him where we get to see a bunch of different places and get treated like royalty.
After the season is over and I've taken all my visits, more than likely that is where I will commit."
Johnson says his family has no issue with him packing his bags and making the cross-country move.
"Distance is not a problem for them because Miami is only an airplane flight away. They'll be able to see me on TV anyways so it's not a big deal," he said.
The Hurricanes have been a favorite of Johnson's for a while.
"That was always one of my favorite teams with the history they have. A lot of my favorite players like Sean Taylor, Ray Lewis, Ed Reed, Warren Sapp, and a bunch of other guys who were ballers. Their history is rich," he said.
Not only does Johnson have an appreciation for Miami's past, but he also recognizes that the revamped staff could be beneficial to his future.
"You look at the current staff and you have Coach Kuligowski, where he's had two of his linemen win SEC Defensive Player of the Year. That's a great coach. Coach Richt is a great coach himself and they lost a few close games last year where I feel like if they had somebody like myself that they would have won 10 or 11," explained Johnson.
Johnson went a bit more in-depth as to why the Hurricanes are currently his leader.
"They're Adidas and that's the brand I like to wear. All the shoes I got are Adidas. They're playing that attacking defense too which is what I like. I like to get up the field and go crazy a little bit," Johnson said. "The facilities are great of course and the uniforms are great. They have a great sport administration program too, which is what I will study. It's a great school."
Not only is Miami's coaching staff putting in work with Johnson, but also a few guys on the current roster, as well as a few others. Johnson said that he has been in contact with Brendan Loftus, Michael Pinckney, Waynmon Steed, CJ Henderson, and DeeJay Dallas.
The pass-rushing specialist has taken this spring to work on his weaknesses, knowing that things won't come as simply at the next level.
"I've been focusing on making my pass rush even better. I kind of got away with some stuff last year because I'm big and fast, so I'm trying to get more technical with my hands and hips because it's not as easy when you get to college."
Highlights
:
DJ "Freak Nasty" Johnson Junior Camp - Deonte DJ Johnson highlights - Hudl