Canes Hoops insider notes 10-24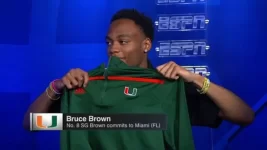 **Miami coach Jim Larranaga knows that length is the least of his worries on his roster, but rather the inside play once the Canes face top-tier competition.
"We have long and athletic guys, but we're also kind of on the small side in terms of physicality. We need our guys to get bigger and stronger in the weight room. You can't do that overnight – you can't even do that over a period of weeks," Miami's coach said.
He continued to explain that the challenge for his staff this season is "how do we overcome that area? Because we aren't going to be able to put on 20 pounds on Dewan Huell or Ebuka (Izundu)."
To that point, Larranaga distinguished "interior defense and rebounding" as the two areas he sees as needing the most improvement.
**An example of a player who needed to add strength is wing Rashad Muhammad (San Jose State transfer), who arrived at Miami weighing 157 pounds and has added 27-pounds to tip the scales at 184.
Muhammad, who led his San Jose State team in scoring for the two seasons he was there, is not yet where Coach L would like for him to be on the defensive side of the floor.
"He's working to improve defensively. I would like to see him rebound more. I would like to see him be a little tougher on the ball defender and a more vocal team defender."
**The Canes enter new territory at the point guard spot this season, as Ja'Quan Newton takes over as the starter for Angel Rodriguez, who is now playing professionally in France.
Behind Newton, Larranaga says that the team is working on developing freshmen guards Bruce Brown and Dejan Vasiljevic into "viable options" at the point throughout the game. Coach L added that he is pleased with how Newton's leadership has progressed, and feels good about the progress of both young guards.
Larranaga assessed the differences between Rodriguez and Newton at the point.
"Angel was a guy who could penetrate and pitch, but he was also a very good three-point shooter."
"JaQuan is really an attack guy. He likes to get into the paint. From an offensive standpoint that's very good for his performance and the team's performance," said Larranaga, who went on to point out that there is a disadvantage to Newton's style when it comes to the other side of the floor.
"While he's driving the lane, who's back defensively? You don't want to give up a lot of fast break points to your opponent because you're looking for defensive balance."
**A couple interesting hints that Larranaga dropped – he expects 6-6 Davon Reed to start at shooting guard and 6-7 Anthony Lawrence will play the 3, giving Miami a lot of defensive flexibility with Kamari Murphy and one of Dewan Huell or Ebuka Izundu most likely rounding out the starting 5 at the beginning of the season.
**Sophomore Anthony Lawrence was one of Miami's most versatile players last season as he was thrown into the fire perhaps a bit earlier than some expected he would be needed.
"As a freshman, he had to learn both the three and the four. This year, the same way – he will start as our 3 and rotate to the 4 at some point. That depends also on how the other players are playing," Larranaga explained.
"His playing time is going to be significantly increased."
**Freshman forward Dewan Huell enters his first season in Coral Gables as the most highly touted recruit in Larranaga's career – a five-star prospect and McDonald's all-American.
Coach L said that he is, "very, very pleased" with Huell's output in practice.
"We are working on his skill development – specifically his jumpshot. As that part of his game improves, he'll get to add more and more," Larranaga said.
And despite how raw Huell's offensive game might be, it's obvious why his talent warranted the hype.
"Even though he's working on those things, he stiull has a lot of strengths that will impact our team. He's an outstanding defensive rebounder, he runs the floor extremely well, he's a very good target for guys to throw it up for near the basket like Tonye (Jekiri) was," he added.
Coach L said that Huell will need to use his agility and quickness up against stronger big men that could overpower the 6-10 Huell, who is currently weighing around 210.
**Larranaga compared freshman guard Bruce Brown's personality to former Canes Hoops star Durand Scott and called him a "lovable character who smiles all the time and is seriously athletic".
"He's great in the open court," Larranaga said. "He can get to the rim so effectively – use his right or left hand, use hang time to create a shot that most players can't make."
According to Coach L, Brown is the team's leading guard rebounder in practice and he expects the freshman to contribute in that category.