Canes Dominate Texas Southern 84 - 69
After two games where the Canes looked anything BUT a team that can compete in the ACC this season, Miami showed what will make them exciting to watch. Hitting threes, creating turnovers and a fast paced offense was too much to handle for the Tigers of Texas Southern.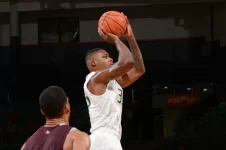 via HurricaneSports.com
HIGHLIGHTS
RECAP
Miami started off slow missing they're first 8 shots, while TSU started off hot led by Ray Penn who made his first three buckets with three balls. Miami trailed by as many as 12 in the beginning of the 1st half. Then around the 16:30 mark, Donnavan Kirk woke up the Canes with an easy layup and a defensive block following. From that point on it was all about the Hurricanes from deep. Before tonight's game, the Canes shot an abysmal 16.7% from deep; but thanks to Davon Reed and James Kelly that stat line changed quickly. Reed went 3-4 from deep in the 1st and Kelly went 2-2. Even Garrius Adams got his shot back hitting a three. Miami was also able to keep Texas Southern shooting a lowly 37% from the field, when they were shooting 56.8% on the season. Defensively Miami was able to create points off turnovers, causing 16 turnovers that resulted in 26 points. Combine that with the Canes out-rebounding and out-assisting the Tigers 41-31 and 21-13, and it was a blowout just a little after halftime. A convincing win that really showed what the Canes can do if their clicking on offense and defense.
INJURY UPDATE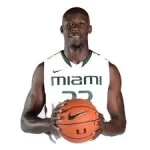 Tonye Jekiri, who many Canes fans believe is the key to Miami's success, went down with a right ankle injury and was helped off the court and into the locker room. Jekiri never returned to the Canes bench, most likely getting X-Rays. But his not returning isn't a good sign. At this point, it's a matter of is it season ending or not. I'm always going to be optimistic, but he seemed to be in a lot of pain while he was down. Was holding his face and gasping in pain when being looked at by trainers. Keep him in your thoughts. Also, why is it that the Canes keep having key injuries??
BIG MEN ON CAMPUS
James Kelly
This guy made a name for himself tonight, and possibly solidified his spot as the 6th man. He finished with 17 points, highest of his career, and got it done from every spot on the floor offensively. Hitting threes, hitting FT line jumpers and finishing at the rim, he would not be denied. He shot 3-4 from deep in the game, 7-11 from the floor. He was most effective when paired with Donnavan Kirk where both players were able to play off each other. If Kelly can be consistent with that 3 ball, Miami might have something that can get them back to having that spread out pick and roll offense. Manu Lecomte also showed comfort feeding him the ball which also fuels Kelly's confidence. I said he might be the best offensive big on this team, and if he can keep this up, he very well might be. He looked in control with his shots. Also played solid defense and snagged 7 boards.
Davon Reed
Davon Reed showed a good stroke tonight, spurring the Canes offense in the latter parts of the 1st half. Going 3-4 in the 1st half, he was hitting shots and using the pump fake to get inside the defense and either finish or dish. Still has mistakes and mental errors, but his stroke and athleticism made him a viable SG in this offense off the bench. Reed also was given PG duty when running a tall lineup that included him, Brown, Adams, Kirk and Kelly. He was able to handle the ball well, but don't expect him to experience similar success when he enters ACC play. Still a good confidence booster for him tonight as he now has a reason to hold a solid role off the bench. Not to mention his spinning layup finishing off a heavy foul was nasty.
Rion Brown
When many fans, myself included, needed to see Rion be a more consistent player, tonight was a night that helped him move just a little closer to being that. He recorded 13 points, 11 rebounds and 9 assists. Was a factor with is hustle and passing, and finally righted his shooting woes going 6-12 from the field. Was attacking the rim and either pulling up for mid rangers, or dishing to open shooters in the corners. Still had trouble handling the basketball once in traffic, but his hustle and athleticism really shined tonight. He keeps this up and not only will he gain confidence as a key leader and player on this team, but might give Canes fans some confidence as well.
UP NEXT
College of Charleston in Charleston, SC. Where I've never had a bad serving of shrimp and grits, fried chicken and arnold palmers. Not to mention the bar scene on King St. pretty good. But the food..... Getting sidetracked, but College of Charleston always has some tricks. They once defeated UNC when they were #2 in the country a couple of years back. So this is not an easy matchup, considering it's the teams first road game of the season. Enjoy the win and Go Canes!