Armbrister working to prove he belongs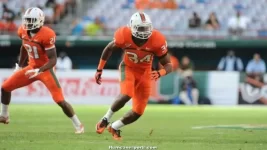 Coming out of Hollywood Hills High School four years ago, Thurston Armbrister was an unranked recruit who many Canes fans were questioning why he was even offered. After a highly productive career at Miami, Armbrister is still working to prove the naysayers wrong.
"I didn't have any offers. I've always been an underdog and it gives me a reason to work harder. I felt like I had proved myself enough to get invited to the combine, so I need to continue to work harder and get better," Armbrister said.
Armbrister's production increased each year at Miami. The 6-3, 235-pounder started all 13 games his senior year and tallied 8 TFL, 5 sacks, and 2 FF.
"It says a lot about my work ethic. In the offseason, I diagnosed what I needed to work on and I would work on it as hard as I can for the next season. I still have room to grow with my body and I'm excited to see what I can do at the next level," Armbrister explained.
Looking ahead to the NFL, Armbrister brings a lot to the table from a versatility and upside perspective.
"With my skillset, I can do a lot of things. I'm big enough to play in the box and stop the run. I'm fast enough to cover slot receivers. I've developed my pass-rushing enough to beat top offensive linemen, so it just says a lot about my versatility."
The product of talent-rich South Florida is willing to do anything to stick in the league.
"I try to not think about what my role is going to be. I will adjust and adapt to whatever coaches ask me to do."
With pro day at Miami coming on April 1st, Armbrister is busy training for his opportunity to impress scouts.
"I'm working out every day, doing a lot of physical therapy to get rid of the nicks and bruises from the season, and I'm really focusing on my pass-rush and linebacker drops. I do a lot of defensive back footwork drills as well to keep my skills sharp."
Pro day is Armbrister's chance to show NFL teams what they would be getting in him as a prospect.
"I want to continue to prove that I'm a better player than people give me credit for. All I do every day is come in and work hard and keep my mouth closed. I have to show at my pro day that teams will be getting a fast, strong, versatile, and dependable linebacker that is accountable."
Back in January, Armbrister had the opportunity of competing in the Medal of Honor Bowl.
"I got to encounter a new coaching staff that taught me a lot of new things with technique. I was able to compete against better talent, especially some of the tight end-linebacker battles which taught us a lot."
He felt good about his performance that week, where he was able to highlight his versatility.
"I feel like I destroyed the practices and felt like I was one of the better defensive players there. I played all three linebacker positions and played some defensive end too."
There is one moment that really sticks out to him when he looks back at his time in orange and green.
"My biggest memory is sharing that victory over Florida at home and how I was a key factor in that win."
Armbrister added that he studies the likes Jamie Collins, Ray Lewis, Von Miller, and Luke Kuechly at his position.