All options open for Miami 2017 defensive tackle target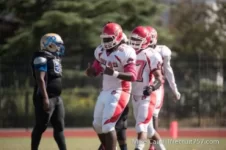 At 6'4" 305 lbs, Elijah Conliffe is one of 247sports.com's top 20 defensive tackles in the nation for the class of 2017. Out of Hampton, Virginia, Conliffe had a monster senior year and won defensive player of the year in his school's conference (C-10).
"I've become very versatile on the line," Conliffe said while speaking about how he has improved this season. "I can play nose guard, defensive tackle, and defensive end pretty well."
Conliffe said that "he has gotten more aggressive over the years," and colleges are beginning to take notice. With national signing day a couple of months away, Conliffe said he is getting attention from a variety of different schools.
"[Recruiting] has picked up," Conliffe said. "After I dropped my last highlight tape I probably got the bigger schools I hadn't gotten yet."
Conliffe named Ole Miss, Tennessee, Penn State, Miami, Oregon, and Florida as schools who have expressed interest, but said he has the strongest relationship with the staffs at Tennessee and Penn State. Coaches have zeroed in on Conliffe to round out their classes, but the defensive tackle said he does not have a top 3, and his recruiting process is wide open.
"I'm pretty open," Conliffe said. "Just taking a look at places to see where I'm going to take my officials to."
"I know 'Bama is going to get one (an official visit), and possibly Miami and Tennessee."
As for Miami's relationship with the four star recruit, Conliffe said that it has improved over time.
"It's gotten better," Conliffe said. "At first we wouldn't talk as much, then we started to pick it up a little more. He is telling me about the campus and stuff like that."
Miami has sold the ability to play as freshmen to recruits all throughout the cycle, but Conliffe said getting into the right program is more important to him than anything else.
"I'm not as far as looking for that," Conliffe said. "All I really want to do is get into a program to really learn the technique, really learn what is going on, learn the program, and then when I am ready I want to play."
Conliffe closed things off by saying it may come down to how he feels once he gets to his official visits, and with signing day less than two months away, only time will tell where the defensive tackle feels most comfortable.