All-American OL Brahms has Miami high on list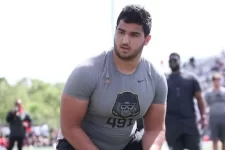 A major position of need for the Miami Hurricanes in the 2017 recruiting cycle is offensive line, especially as new coach Stacy Searels looks to retool with his own guys. 2017 OL Nick Brahms (6-4, 285) of Navarre High School is one of the prospects Miami's radar.
The four-star Brahms projects as an interior lineman in college, but plays mostly tackle at the high school level.
"I have quick feet and that really helps in the run game. I think run-blocking is my strength, but I can pass-block well too," Brahms said. "Some schools see me as a tackle, and other see me as a guard/center. I prefer right guard or left guard because you can get nastier in there. At tackle you're on an island by yourself and you have to be a
little longer."
Offensive linemen can often be some of the most interesting characters on the field. Brahms explained that he likes to let his actions do the talking.
"Sometimes I'll let them know about it if they are talking trash, but I prefer to just put people in the dirt and go right back to the huddle and then do it again the next play," he said.
The number 10-ranked guard in the country by 247sports.com, Brahms said that Auburn, North Carolina, and Miami are the three schools recruiting him the hardest at the moment. He also said that he has been in touch with Stanford, but that no offer has come from them yet.
If Brahms were to choose Miami, it would be a lifestyle adjustment coming from Florida's panhandle, but it's not something that he's opposed to.
"It's a beach town up here. Miami would definitely be a culture shock, but I would be able to get used to it. I've been there before and I liked it a lot. When I went down there, it was like 68-70 degrees, which is like one day out of the year (laughs)," he said.
As previously noted, Brahms' primary recruiter has been Stacy Searels. The two have become close recently and Brahms' position coach at Navarre is in favor of the Hurricanes.
"He's a great guy (Searels). He's so intense when he coaches and we have built a relationship over the last two months. He knows my high school coach really well and he wants me to go there because of him," Brahms said.
The Army All-American Brahms is a fan of Mark Richt's coaching style.
"He's top of the line when it comes to getting work done. He was a great coach at Georgia and I really think he is going to change the culture down there. He's about discipline and getting things done on time and I think he's definitely one of the best in the business," he said.
Brahms said that he will be in Miami on July 15th and 16th for camp. He will be visiting North Carolina, Auburn, and Duke this weekend and also wants to check out Oregon and Stanford at some point. He also noted that he wants to make his decision prior to his season.
[HUDL]athlete/2955577/highlights/318166378[/HUDL]