4/1 Spring Practice Recap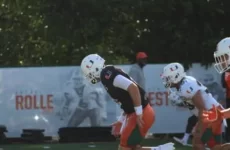 The Miami Hurricanes capped off their second week of Spring practice Saturday with several new developments.
* As has been widely reported, freshman running back Robert Burns sustained an injury and did not practice. Mark Richt said he could not specify the injury afterwards with the media, but Peter Ariz reported on the specifics.
[TWEET]848191772421484547[/TWEET]
* During the media viewing period, a shift was also noticeable in the offensive line, with several players getting reps at different positions including Navaughn Donaldson at guard.
[TWEET]848171520052613120[/TWEET]
* After practice, Dionte Mullins, a player who has garnered attention this offseason, was made available to the media. Coaches have preached consistency with the rising sophomore, and Richt said his development last year led him to his current state both physically and mentally.
"I think what has helped him the most is just being in the system for the amount of time he has been in the system," Richt said. "You talk about going full speed as far as install and all that, by the time he got here we were really rolling, and he just was behind. It was hard for him to run a route with precision when you're still not sure what the route is, what's the signal, what's the code name -- now he is much more comfortable and I see him playing a lot faster."
* Braxton Berrios also said he has noticed a big jump in Mullins' production over the Spring, and applauded his mental approach. Mullins himself said he has been training hard despite limited playing time, and is locked in with the team.
"I learned a lot about the college level," Mullins said. "It's pretty fast, I got to catch up, you know, but things happen and now I'm here just to take it a day at a time."
* Beyond Dionte Mullins, freshman Jonathan Garvin is another player who continues to impress during Spring practice, and has drawn comparisons to Miami's leading pass rusher in 2016.
"I think John is a little bit like me," Jackson said. "John's aggressive, he's hungry, he's strong too, fast off the ball -- with coach Kool's help he's gonna be a good d-end."
* Redshirt junior Demetrius Jackson also liked the comparison.
"Somewhat like a Joe Jackson," Jackson said. "All these people coming in now, they're coming to the right system, the right coaching staff, the right defensive coaches. So, you know, they are not trying to take nothing away from his game, they're letting him play. I see flashes of Joe Jackson, I think he is gonna be really good."
* Jackson himself also sees improvement from Pat Bethel, who went through the process of learning a new position last year, and expects to play a larger role on the team in 2017.
"That man was playing d-end a year ago," Bethel said. "Now he is about, I think, 270-275 [pounds]. He's easy to teach so he's coming on quick, coach don't have to repeat. Coach say one thing, once to him, and he gets it. He is strong on the inside so I see him like a Michael Bennett type of guy, can play end and d-tackle."
* Miami returns its entire starting front seven in 2017, and Joe Jackson said there is no doubt in his mind they will be "a top defense in the country." Jackson said the greatness will come as a result of holding themselves to the Miami "standard," and they are progressing well with a year in the system under their belt. Jackson said his development clicked in the second half of the year, and that he has been a different player since.
"I just came to the realization that it was simple," Jackson said. "I didn't have to overthink things, I just had to play fast and violent. But it was simple, the plays are simple, everything slowed down and practice is harder than the game."
* Jackson said he will begin practicing against Navaughn Donaldson next week, and praised him for his strength and competition.
At this point Miami's front seven is the least of their concerns, and the 'Canes will continue to get reps at all positions in the last few weeks of Spring. Their final event will be held at Boca Raton High School on April 22nd.