2019 Trey Sanders talks Canes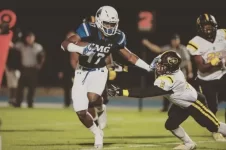 2019 IMG Academy ATH Trey Sanders visited Miami last Saturday with his teammates Noah Cain, Evan Neal and Nolan Smith.
"Going on the visit I had a different mindset about it," Sanders said. "After I left it showed me that Miami is a great place to be."
While Sanders was at Junior Day, he was talking to multiple coaches, but Miami Head Coach Mark Richt was the coach that connected with Sanders the most.
"I was talking to Coach Richt the most," Sanders said. "We were just talking about life after football, and basically life in general. Coach Brown offered me as well."
Miami offered Sanders at Junior Day, but what position do they want him at?
"Miami offered me as an athlete, because nobody really knows what my true position is yet."
"I'm still open to every option. I don't really care what position I play," Sanders said. "Alabama offered me as an ATH."
Now that Miami has offered, have the Hurricanes put themselves in the running for
#9
players in the 2019 class?
"Yes sir," Sanders said. "I'm still 100% committed to Alabama, but Miami is a great place to be, Miami just needs to keep showing love and keeping coming at me hard."
Sanders has been committed to Alabama for sometime now. He said that it's just a place were all players want to be.
"It's a process," Sanders said. "They put players in the league and it's a great program that I want to be apart of."
He will be in Tuscaloosa this weekend for Bama's junior day.
Sanders also says he's trying to get back down to Miami something in the spring to see the campus more and talk to Coach Richt and Coach Brown.