2019 hybrid Samuel Brooks spring highlights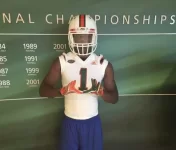 2019 Miami Northwestern OLB/DE Samuel Brooks emerged as one of the top pass rushers in south Florida as a sophomore and is primed to contend for the sack crown in Dade County once again. He recorded 16.5 sacks last year.
Brooks, a Canes legacy prospect, played almost primarily with his hand in the ground last season with much success. However, his role at the next level will probably be as more of a stand up rusher. Northwestern coaches played him in more of that role during the team's spring game against Atlantic Delray. Highlights from that game below:
[HUDL]video/3/5417056/591dc0fe1600381334ed01a5[/HUDL]
In February, Brooks had the 5th best testing score regardless of class at the Nike regional combine in Miami -- his score was the best in south Florida for the 2019 class.
Brooks was measured at 6-1.5, 193 pounds. 4.84 40, 4.38 shuttle, and 36.2 inch vertical jump.
Sophomore highlights:
[HUDL]video/3/5417056/5883b3bf23481b1da0bbea78[/HUDL]