2019 Hunter offered, almost committed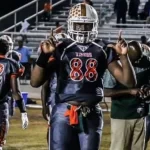 2019 Dunbar High School DE Derick Hunter was thoroughly impressed by his junior day visit to Miami today. The 6-5, 225-pound athlete holds offers from UF and Notre Dame. He came into the day without a UM offer, but left having almost committed.
"When Coach Kool told me I had the offer, I almost cried because I've been waiting to hear those words from a Miami coach my whole life," Hunter said.
"I wanted to go through the full process and explore my options, but also at the same time that's my dream school. That's the school I've known since I was this tall, and those are the only colors I love. It was amazing that I got to sit down with Mark Richt and he made me feel like I was a special target. A lot of coaches wouldn't do that. With him, it's more than football."
As Hunter said himself, he seriously considered pulling the commitment trigger today.
"It was the best thing I've ever seen. As soon as I pulled up to the campus, I already knew I wanted to commit even though I didn't even have the offer yet. I knew where my heart was. I wanted to commit so badly, but my coach told me to calm down and see the rest of my visit," Hunter said.
Hunter has no doubts about Miami's coaching staff.
"When I met Manny Diaz, it was a wrap. That's the kind of defensive coordinator coaching me. He wants you to bring excitement on that defense. If you make a play, go out there and celebrate it," Hunter said.
"Coach Kool is the defensive line guru," he added. "For him to bring me up to his office and then Coach Mark Richt's office was just amazing. When I put on the Miami Hurricanes jersey and took a picture by the Heisman trophy, that just capped it all off."
He went on about the mood around Miami's junior day event on Saturday.
"The atmosphere on campus is beautiful and relaxed," Hunter said. "The movement Mark Richt has going on with changing the face of the University of Miami is something that I'd love to be a part of."
"A lot of people who were there just visiting the school had a great vibe and everybody loved it. You can tell the program is headed to the right direction and I believe they put the job in the right man's hands and he's just running away with it right now."
[HUDL]video/3/7549244/58075b7111fa7f261ce6df8e[/HUDL]