2018 QB ready to "lead on and off the field"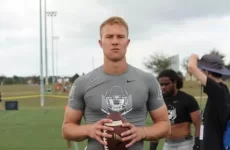 Davenport, FL - Artur Sitkowski has become a name to remember in the 2018 recruiting cycle for Miami fans. After announcing his plans to transfer to IMG Academy for his senior season, Sitkowski arose in the Florida spotlight.
The 6'4" gunslinger is getting attention from big-time power 5 programs, and named Miami among the groups of teams recruiting him intensely.
"Miami, Wisconsin, North Carolina, South Carolina, LSU, UCLA, and Rutgers are probably the schools recruiting me the hardest right now," Sitkowski said.
Sitkowski says Miami has made him a priority, and are giving it their all on the recruiting trail.
"Hard, Hard, Hard," Sitkowski said. "You know they say I'm the top guy, you know the way they recruit me I'm the number one guy. They just want to get me on campus."
Sitkowski will be on campus next week for his second visit to Coral Gables, and says he is looking forward to seeing it again.
"It's beautiful, it's a beautiful place to be," Sitkowski said. "Those players are great people, you know, Coach Right is recruiting the right type of people to that program so it is exciting — it's a good time in Miami football."
Sitkowski says he likes the direction Miami's football program is going in, and has developed a tight relationship with the staff.
"Coach Jon Richt, Coach Richt, and Coach Brown I have a great relationship with," Sitkowski said. "I talk to them a lot and have a good relationship."
Sitkowski says he plans on being a leader "both on and off the field" at the next level, and is watching this years quarterback battle closely to see if there will be potential playing time for him early.
"It's big time," Sitkowski said. "To compete early as a freshman, it's big time for me as a player to get in and compete as early as I can."
Sitkowski says he does not have a shortlist or decision timetable, and with Miami's 2017 quarterback battle looming, his recruitment will be interesting to watch.