2018 Linebacker is ready to make his decision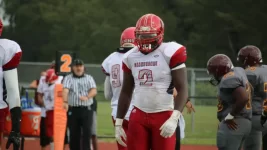 One of the top 2018 LB's in the nation is ready to announce where he will be playing his college football. Although signing day is well over a year away, Donovan Georges is ready to announce when he will make his decison.
"Probably the second game of the season, it's not really an event it's just something i've wanted to do."
Georges has offers from schools all across the nation, but there's 3 schools that he's very high on.
"My top 3 right now are Miami, Georgia and Alabama." Georges said. "Georgia is my front runner right now but anything can happen."
"When coach Smart came to Georgia he told me you're still my guy, i want you to play for me at Georgia and we can do some great things."
Georgia may be the frontrunner with Georges, but he's not shy to talk about his love for the hometown Hurricanes
"I love Miami, that's been my favorite school since i was 5 years old." Georges said "It's close to home and my family would love for me to stay and play for theU."
"The coaching staff shows me love, i talk to coach Kareem Brown, Coach Baez and Coach Manny Diaz." Georges said. "They're alway telling me that they can't wait to see me in the Orange & Green and they really care about you."
Despite being a rising junior, Georges has taken the next step in becoming the leader of this team.
"Everyone looks up to me, everyone expects me to be the man of this team and lead the troops into battle. Georges said "everyone looks up to me as a big brother and i'm ready to step up and become the man."