2018 James Head, Jr. is a disruptive force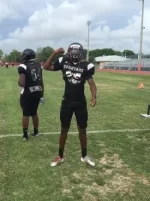 Earlier today, we spotlighted Southridge defender Randy Charlton. 2018 OLB/DE James Head, Jr. was another key cog in the Spartans' historic defense. The 6-4, 215-pound edge rusher plays with an extremely high motor and has a nose for the football. He also uses his length to be disruptive at the line of scrimmage with pass breakups.
[HUDL]video/3/5314574/5803f7e211fa7f4e9cbd175f[/HUDL]
"I use my reach and I'm taller than most offensive linemen, so I'm able to keep my distance from them and get around them," Head, Jr. said.
"I want to get my weight up, but still keep my speed at the same time," he added.
Although his production was superb this season – 30 tackles for loss according to Head, Jr. – he knows that his money position might be linebacker at the next level.
"I love linebacker and I hope I can end up playing it. If they need me to play D-end in high school I'll do it, but at the college level I'll probably be a linebacker. I like that I'm able to read a defense and make plays. I know I probably won't be asked to cover a lot, but if I had to, I can handle it with a little practice. Colleges have asked me if I see myself playing linebacker, and I've told them that I do."
Head, Jr. holds offers from the likes of Nebraska, Mississippi State, and NC State. He said that he is hopeful that Florida, FSU, and Miami call his number as well.
The productive defender attended two Canes home games last year – FAU and Florida State. Head came away impressed with the play of Miami's defense.
"With the linebackers they have now and the recruits they have coming in this year, I feel like they're going to have a top 10 defense this year," Head, Jr. said.
Head, Jr. said that the only visit he has in mind right now for spring is Miami's junior day.