2018 Finnie making the most of his chance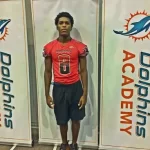 Preseason lists of top prospects emerge every year around August. Anybody can spot a four-or-five star recruit in street clothes and call them "freak athletes", but one of the best things about high school football in south Florida is that unheralded ballers emerge from the woodworks.
Some kids just need to find the right situation and motivation to make it work. Meet 2018 ATH Lamont Finnie, Jr – Edison's emerging junior who is leading the Red Raiders to a 3-1 start on the field.
Finnie attended Miami Northwestern his freshman year and was on the J.V. squad before getting moved to Varsity at the end of the season. In hopes of greener pastures, Finnie made the move to Central for his sophomore season, but was not eligible to play with his 2.0 GPA.
With time ticking, Finnie transferred to Edison for his junior year, where says everything has clicked for him on-and-off the field.
"Really my parents pushed me and just knowing that I'm the oldest (of 11 children). If I don't make it to the next level – not even just making the NFL – but just graduate, it would be a failure to myself. Maybe not for them, but my little brothers and sisters look up to me and I had to make that decision," Finnie said.
The two-way athlete's 4-game highlight looks like a season's worth of clips for most.
"People don't see Edison the way they do Central, Northwestern, or Booker T., so we just wanted to bring it back," he said. "Don't doubt on us. We're coming back."
Football runs in Finnie's blood. His older cousins Thomas (former Miami and Bethune-Cookman CB) and Brandon (former FAMU LB) played at the college level. His great uncle Roger Finnie played 11 seasons in the NFL through the 1970s. And his father Lamont also played at Bethune.
He wants to not only carry on their legacy, but take it one step further.
"It's very important to me because almost every one of my family members who made it to the next level messed up some how. I feel like it's on me to learn from the mistakes they made," Finnie said.
One of those "mistakes" that Finnie is referencing is the fact that he cousin Thomas was kicked out of Miami in December 2012 after a solid freshman year. The older Finnie has bestowed some advice on him.
"I saw him at his graduation from Bethune and that's the last time we talked about football," Lamont said. "He tells me to take advantage of the opportunities you get, because sometimes you don't get a second chance. He says you can't take anything for granted.
The college coaches will inevitable start calling for the dynamite Finnie, who currently holds two offers from USF and Temple.
Is there any offer that would mean more to Finnie than others? He says Miami.
"When I was little, I loved to watch Graig Cooper play. I liked all the payers from Northwestern too so I followed them when they went to UM. Then Duke (Johnson) went there too."