2018 DB Divaad Wilson gaining attention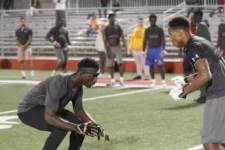 Going into his senior season, 2018 defensive back Divaad Wilson is starting to gain traction on the recruiting trail.
Wilson is a recent transfer from Pace to Miami Northwestern high school, and is currently hearing from several schools. Wilson has offers from Louisville, Rutgers, and South Florida, and is starting to gain attraction from the Miami Hurricanes.
"I'm talking to the coaches a lot," Wilson said. "The coaches are going to come see me next week sometime. I know they have a lot of DB's so I'm gonna look into it more, to see what is happening, who has decommitted, and stuff like that."
Although Wilson has gained interest in Miami, his recruitment is leaning in another direction due to his early offers.
"Florida, UCF, UM, Louisville, and Rutgers [are on my mind]," Wilson said. "The one I am probably leaning to the most as of right now is maybe Louisville."
Wilson did note; however, that if Miami offered they would be amongst his front runners.
Wilson says he will "wait and see what happens" in regards to scheduling his official visits; but when considering Miami, the 6'0" cornerback says he will have to look at their depth chart situation.
"They will be up there with Louisville but I will still look into it," Wilson said. "The depth chart and all the people who they have coming in and stuff [I will have to look at]. I'm not scared of competition, but I want to jump in early."
Wilson has jumped into the picture due to stout play throughout his high school career, and is currently making waves with 7-on-7 camps beginning.
[TWEET]820144162632794112[/TWEET]
Wilson has been tweeting at coaches to follow him back on Twitter over the past couple weeks, and his efforts have come with results. Schools such as Rutgers have responded, and Wilson has busted recruiting scene of late.
Although Miami would be in good position with Wilson if they were to offer, the soon-to-be senior did say another school could lead the way if they were to offer as well.
"Florida, if they get into the picture they might be my leading team if they offer."
Despite his potential attention from Florida and Miami; however, Wilson made it clear that the most important factor for him is playing right away.
"I want to start as a true freshman -- make a statement early."