2018 Carol City RB Davis talks Miami offer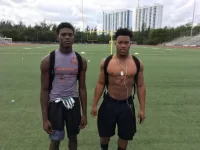 (Davis pictured right)
[TWEET]823248087812571136[/TWEET]
As Miami looks to potentially add another running back in their 2017 class, that isn't stopping a Thomas Brown from getting a head start on the 2018 cycle. Today, Brown offered one of Dade County's best players in Camron Davis of the 6A State Champion Carol City Chiefs.
"Getting an offer from the University of Miami was a big statement because that's the hometown school. It's the 305 and the sunshine state," Davis said.
"Coach Brown called Coach (Aubrey) Hill so that he could get in touch with me to offer and he finally got my number and he called me two hours ago to give me a speech about the school, the academics, and what I should major in," he said.
Davis was previously committed to Telly Lockette and the Oregon State Beavers, but took a step back in October.
"When I decommitted from Oregon State, that opened the door for them to offer me. When I was committed, I had shut down my recruitment," he said.
"A lot of great running backs came from Miami. A lot of great players like Ed Reed, Ray Lewis, and there's a lot of guys who have been to the super bowl from Miami."
[HUDL]video/3/5301408/5827983011fa7f7f48a14cce[/HUDL]
"I'm a balanced back, an all-purpose athlete. I actually like playing defense and getting work as a defensive back or running routes like a receiver."
One area that Davis takes tremendous pride in is his work ethic in the weight room. He said he is currently weighing 191 pounds at 5-10, which is down about 6 pounds since the season ended.
"It ain't about the numbers in our weight room. It's about what you produce and put into it. It's not about how heavy or light, it's about if you're going to put that work in," Davis explained. "I haven't missed a day in the weight room or a day of running. I'm a dedicated person to football."
In addition to football, Davis stars on the track, where he has posted a personal best 11.06 in the 100M. This season, he said he plans on competing in 100M, 200M, 4x1, and the 400M. On the 400M race, he said, "I'm practicing for it because that's a man's race."