2018 American Heritage CB talks Canes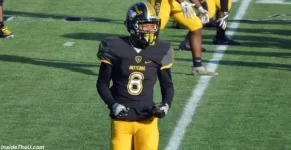 Photo credit: Christopher Stock -- Miami247
Now that signing day is for the class of 2017 is over, it's time to shift focus to the class of 2018
The Hurricanes dressed everything they needed in 2017, but despite addressing all of their needs, but there's still one position the Canes will target heavily in this recruiting cycle ---- that's the Defensive Back position
Miami currently hold commitments from there defensive backs, two corner backs and one safety, Gilbert Frierson (Coral Gables) , DJ Ivey (South Dade) and Joshua Jobe (Columbus), but there's one cornerback that they're recruiting heavily ---- 2018 American Heritage CB Tyson Campbell
"My recruitment is going well." Said Campbell "There's a lot of schools after me right now."
Campbell was recently at Clemson for there recent Junior Day
"It was a great visit, I loved everything about it."
Campbell has offers from Miami, Clemson, Georgia and others, but there's some schools sticking out for him right now
"Miami, Clemson, Florida, LSU and Ohio St. are recruiting me the hardest right now."
One of those schools is the hometown Hurricanes
"Playing at Miami would be great." Campbell said "it's close to home, Mike Rumph is there and it's a great place to play."
"I'm not ready to make a decision yet, I'm going to take a couple of visit and see after that."