2017 Safety "I'm 100% committed to Miami"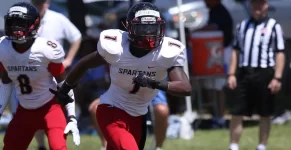 2017 Miami Southridge Safety Billy Gibson Jr. has been committed to Miami for over 7 months now. But while he remains solid to the Canes, other schools are continuing to recruit the prized defensive back.
"West Virginia, Miss St. and Alabama are still actively recruiting me, they're telling me i can come in and make an impact at their school, Gibson said at a high school media day hosted by the Miami Dolphins. "But I'm 100% committed to Miami."
The Miami coaching staff made Gibson a priority early in the process when he committed on a visit with his teammates at Miami Southridge, and Gibson continues to praise the Canes now
"The Miami coaching staff shows me a lot of love, Coach Banda, Coach Rumph are always talking to me." Gibson said "Now that national signing day is a couple of months away, the coaching staff is recruiting me even harder."
While Gibson isn't a vocal leader in this class like Deejay Dallas and DJ Johnson, he is still doing his part to recruit one of his teammates, 2017 CB Shawn Davis, who's scheduled to make his announcement August 26th.
"I'm always in his ear about Miami, i tell him about all the things we can do together in college." Gibson Jr. said. "It's between Miami and Florida but anything can happen."
Gibson is on a loaded Miami Southridge team who many see as the favorite to win the 8A state title. But while the team is very talented, Gibson is staying focused on the work ahead
"I don't really listen to the hype, we didn't perform how we wanted to last season so we have to stay focused and prepare for anything."



Thoughts on Gibson: Don't let the stars or the rankings fool you. Billy Gibson Jr. is a ball hawk in the secondary and he reminds me of former Miami Southridge Safety and current Miami Hurricane Jamal Carter. Gibson's hard hitting ability and defensive instincts make him a huge part of this class and I expect him to see the field early as a Miami Hurricane.