2017 Lineman Taylor is one to watch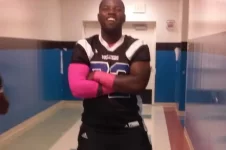 This is the time of year when new names start to emerge for the upcoming recruiting classes and 2017 South Dade G Kyron Taylor is hoping to be one of those prospects who puts himself on the map over the next couple months.
"I'm an intense player. I love competition. I'm a leader, but I'm still able to be down-to-earth with my teammates," Taylor said.
The South Dade interior lineman also doubles as a wrestler during this time of year, which he says helps his ability on the football field. Right now, he has to cut weight which he says puts him around 245-pounds, but during the season, he plays at 260. He says his coaches would like to see him playing at 275.
"(Wrestling) helps me stay low and it helps me with my hand movement and feet technique too."
Taylor's aggressive nature and height (6-2) could also lead to him playing on the defensive side of the ball at some point during his career.
"I can actually see myself playing some defense too because I like to hit a lot. On defense, you have a little bit more free will compared to offense where you really have to follow the play."
Taylor has an interesting story, having moved back-and-forth between Miami and New Jersey multiple times throughout his life.
"I was born in Jersey, then we moved down here. I went back to Jersey, and then we moved back down here in the middle of my 8th grade year."
In terms of recruiting, things are just getting started for the athletic big man.
"Nebraska sent me an interest letter so they will be a school I consider. I like Rutgers too since I lived in Jersey."
The University of Miami is another school that Taylor has taken a liking to, having been around the city for a good portion of his life.
"They've got a good history. The competition that they have with other schools is great. Great players have come from there to the NFL too."
Here are Taylor's sophomore season clips -
http://www.hudl.com/athlete/4616506/highlights/178029376/v2