2016 commit Uche continues to grow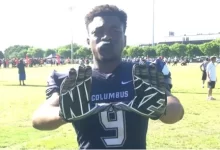 The last player from Christopher Columbus to commit to Miami was Deon Bush in the 2012 class. Four years later, the Explorers are sending another one of their prospects about 15 minutes down the road to Coral Gables.
6-2, 220-pound Joshua Uche was offered by Miami back on March 10th and he committed on the spot.
"I kind of saw it coming because the defensive line coach (Randy Melvin) and I had a very good relationship, but I just didn't know how soon it was going to come," said Uche.
DL Coach Randy Melvin seems to have already made a big mark on Uche.
"I get a great vibe from him. At the junior day, me and him talked for about an hour just as if we were friends and he is one of the reasons I committed there. He has a great background with NFL and all of that."
Maybe the best news for Miami fans is that Uche is still developing physically.
"My brother is 6-5 and I am actually supposed to be class of 2017 and I'm a grade ahead so hopefully I can continue to grow like that."
The strength of this 2016 recruiting class has been a major talking point for recruits in South Florida.
"I'm trying to make sure that everybody stays together as one group because this is a really special class and we can do some big things."
The stand-up rush end is very comfortable with his decision right now.
"I'm locked in with Miami. They have been treating me really well and I appreciate that. I don't think I will be visiting any schools at this point."
This spring practice has been about working on the little things for Uche.
"I want to work on my aggressiveness and the use of my hands some more to help me get around the edge."
**Uche has gained 17 pounds over the past couple of months.
**Columbus DC Alex Trujillo told me he is an extremely coachable kid as well.