2016 Central safety has Canes on top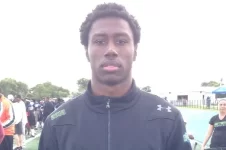 In his first season at Miami Central, 6-4, 190-pound safety Jamel Cook opened eyes. Cook impressed a lot of people throughout the spring/summer camp circuit, but his 6 interceptions during the season were what really caught the attention of those watching.
"I enjoyed the season, but I know I need to work on my hips and footwork a lot. I'll be with my defensive coordinator this summer, Coach Gibbs, and we will be working," said Cook.
The rangy defensive back says that Miami, Louisville, UCF, USF, and South Carolina are recruiting him the most right now. He also added that the hometown Hurricanes lead for his services.
"I like their secondary a lot. It's between them (Miami), Louisville, and South Carolina right now."
James Coley and Hurlie Brown are the two coaches from Miami that have been in constant contact with Cook.
"They keep it real with me. They tell me that if I come in that I will have to work hard for my spot just like every other player."
Cook added that he would like to "wait it out" in regards to the recruiting process. He says that he wants to see all of his options in person before making a decision.
For now though, the Canes have put themselves out in front.
"I love the new campus at Miami and there's a guy named Eric Josephs who showed me around and I really like how small the classes are and I will get to learn more. All I need to decide is what I will major in."
Season Highlights -
http://www.hudl.com/athlete/3315836/highlights/161206381