#2 2018 RB Lingard visiting Miami in June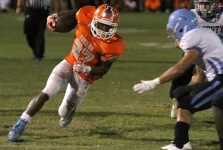 Orange City, Florida is not normally Miami Hurricanes country, but Mark Richt is trying to change that.
University High School in Orange City is home to Lorenzo Lingard, the nation's
#16
overall player and
#2
ranked running back in the 2018 class, according to 247sports. At 6-2, 190, Lingard qualifies in "big back" category, something that he sees as a major advantage.
"It's actually harder to bring us down because we have more lateral power and it's harder to bring us down at the goal line compared to a smaller guy," Lingard said. This spring I've been working on my footwork, aggression, and staying low."
Lingard currently holds 25 offers and says that two he would be interested in receiving are UCLA and Oregon. As for the programs that are already on him, Lingard spoke about who is recruiting him the hardest at this point.
"I know that Miami has been recruiting me really hard. Coach Richt is on me and Jimbo from FSU. Auburn and Clemson have been trying to get a hold of me too," he said. "For the most part, I was a Gator fan growing up but that kind of died down. I'm more of a fan of the game and running backs in general."
Miami and Florida State are two schools really sticking out to Lingard right now. A big part of that interest is due to the coaches from both schools.
"I met Coach Richt my eighth grade year and Jimbo my freshman year of high school. My relationship with the running backs coach will be important too," said Lingard.
Miami offensive coordinator/running backs coach Thomas Brown has already established himself with Lingard. Brown's experience coaching Melvin Gordon at Wisconsin caught his attention in particular.
"He has down to earth qualities and there's a lot that he can bring to the table for me as a running back. He has laid out what Miami can bring to the table academically and in the long run for me. He's very straightforward," said Lingard. "He told me he coached Melvin Gordon so I like that he has experience coaching a big running back."
Lingard has a busy next few weeks up ahead. He will be at the NFL Prep Academy in Canton, Ohio from June 10th-13th. Then he heads home for a few days before coming to Miami for a 7-on-7 team camp from June 16th-17th. He will visit Ohio State on the 19th and 20th.
[HUDL]athlete/4531141/highlights/309955411[/HUDL]