10-26 The Work (Coaching Search)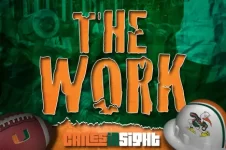 The information I post here may or may not have already been posted on the boards or on my Twitter, but this is what I can confirm we know right now.
**Butch is still very unlikely. He is obviously interested, but the response has been an aggressive no when his name comes up. The residue from the UNC mess hurts him here. Crazy things happen in coaching searches, but I would be very surprised.
**Rob Chudzinski remains a name in the mix. After the Cincinnati loss, Chud's name began circulating once again. He is a realistic hire, but this is not the buzz hire Miami needs.
**Opinion on Mario Cristobal is mixed. Some believe that he has learned under Saban, but others seem cautious because of his reputation of being hard to get along with.
**SEC Coaches are expressing interest in this job. Mark Stoops and Kirby Smart are two notables that we are hearing have quietly thrown their names into the hat. Other SEC assistants will emerge as well.
**Marshall's Doc Holliday is a longshot, but word is he would be interested. His buyout is not considered a major issue and he is a tremendous recruiter. Think Canes want younger though.